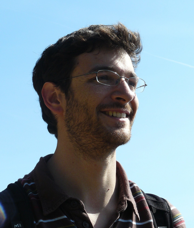 Matthieu Léautaud
Professeur,
Département de Mathématiques, Bâtiment 307, Faculté des Sciences d'Orsay,
Université Paris-Sud,
F-91405 Orsay Cedex,
France.

Office: 2B1
Phone: +33 1 69 15 46 26
E-mail:

matthieu(dot)leautaud(at)math.u-psud(dot)fr





---
Papers and preprints
---
Teaching material
Unique continuation and applications (M2, Orsay, last update on April 18 2019).


---
Habilitation
Sur quelques questions de prolongement unique, de propagation et de contrôle (November 2018).


Phd Thesis
Quelques problèmes de contrôle d'équations aux dérivées partielles : inégalités spectrales, systèmes couplés et limites singulières (under the supervision of Olivier Glass and Jérôme Le Rousseau, June 2011).


---
Former affiliations
Centre de Mathématiques Laurent Schwartz,
Ecole polytechnique.

Institut de Mathématiques de Jussieu-Paris Rive Gauche,
Université Paris-Diderot.

Laboratoire Jacques-Louis Lions,
Université Pierre et Marie Curie Paris 6.